Ah'si'em na'shwalakwa                                          respected relatives
Ah' si'em na'schalacha                                           respected extended family                                                                                                            (friends)
Hay'sxw'qa si'em ti'a skway'chul na'kwilia          Thank you respected all here                                                                                           today
Ew'kwan'tales' kwa'chay                                         Let us walk together on this                                                                                              journey
Hay'sxw'qa si'em                                                     Thank you Respected
I am Yuxwelupton, I am Lkwungen, Ditadaht, Mamalilikulla. Today our Lkwungen ancestors and family have winter ceremonies annually. During these ceremonies you will hear the hand drums echoing through the lands. Ceremonies evolve and are influenced by external communities. This rings true for our community as we didn't always use the hide hand drums.
In the past, in a Coast Salish bighouse, we had our K'owaht, which was a hollowed out cedar plank. It would be placed in the very first row. The drummers would have used the cedar plank during our winter ceremonies. The sound was powerful, resonating in a way that is deeply rooted in our traditions. My curiosity as a drummer had me pondering whether I could make one and what It would sound like.
I satisfied my curiosity by making a smaller version of the K'owaht. The song itself is new, but the teachings behind it are old. The essence is Natsa'maht "to work with one heart and one mind". It speaks to our commitment as humans working together to strengthen the path for our next generations. If you can learn this song, you can sing it. It is a celebration song and my only request is that you let people know where it comes from – the Lkwungen people.
BRADLEY DICK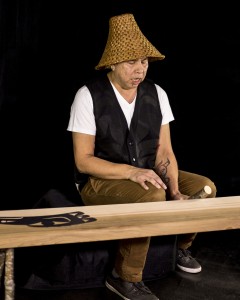 Bradley is of Lkwungen, Mamalilikulla and Ditidaht ancestry. Bradley is married to Jennifer Chuckry and has three beautiful children Shayla (and granddaughter Kaydence aka Granny), Dakota, and Cienna. All are of Cree ancestry. He also has an Australian shepherd, Cy the family guy.
Bradley is a contemporary artist who enjoys working collaboratively with his Brothers Clarence Dick Jr, Fabian Quocksister and his Dad Butch Dick carving ceremonial poles that adorn City hall and the Songhees Wellness Centre. Bradley has been doing commissioned works for well over 20 years and has artworks all over the world as far away as New Zealand, England, Norway and Sweden. He has sold numerous drums and carving locally, focusing on designs based on his family teachings and culture.
His works consist of original paintings, small and large carvings, contemporary designs on shoes and hats. He also creates collaborative paintings with his wife Jennifer that reflect her Cree ancestry as well as Bradley's west coast influences. These works have been sold privately throughout Vancouver Island and Bradley is sure there will be more works to come.