My first memory of chai is drinking the warm spiced tea from my mother's saucer. She would pour it into her saucer so it would cool and I would relish having this grown up drink, curled up next to my mother and her warm loving body.
39 years later, the offering of chai is a tradition that continues in my life. I am the child, I am also now the mother, pouring chai not into a saucer, but into a bone china teacup. This delicate cup is a gift from my children's British great-grandfather, made from buffalo bones.
The buffalo was a great provider: giving up its entire body for food, clothing and shelter to the people of the Plains. This teacup becomes a stand-in for the personal body and the collective body. The sacrificed, the sacrificial. The tea becomes the drum, calling out the stories of pain and abundance. My heart beating, my ears ready, I call forth the buffalo…
And in the sound of the buffalos hooves I have visions: my father moving from India to Pakistan after a violent partition, my children's feet pitter-pattering on the floor safely here on Vancouver Island, the great loss of the Indigenous peoples here, the trauma of my own family violence, my complicity in colonization and my own ancestors colonized. Without this complexity I could not find compassion.
Gratitude is part of any offering. My art practice, where I mine personal history and trauma, offers me the possibility of transformation, from suffering and pain to healing and wholeness.
FARHEEN HAQ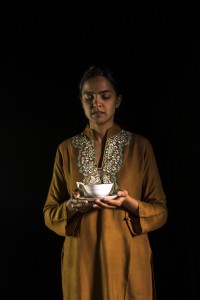 Farheen was born and raised in the Niagara Region of Southern Ontario. She now makes her home in Victoria B.C. where she has lived and worked for the past 18 years. Farheen's media-based projects explore cultural inscriptions of the body, ritual and gesture. Her practice is informed by her work in relationship, family life, community development, adult education and dance. She received her BA in International Development (1998) from the University of Toronto, her BEd (2000) from the University of Ottawa and her MFA in Visual Arts (2005) from York University.
Farheen has exhibited her work in galleries and festivals throughout Canada and internationally including New York, Paris, Buenos Aires, Lahore, Hungary, and Romania. Recent exhibitions include Being Home at the Comox Valley Art Gallery in 2015, Fashionality at the McMichael Canadian Art Collection in 2012, Collected Resonance at the Art Gallery of Greater Victoria in 2011, Pulse Interval at Open Space (Victoria, BC) in 2010, The Emperor's New Clothes at the Talwar Gallery (New York City) in June 2009, and Pulse Contemporary Art Fair (Miami, FL) in December 2008. In 2014 Farheen was nominated for the Sobey Art Award.