In late 2014 a man in his early 60's walked into my studio in downtown Kingston, Jamaica. "You have any work for me?" His quiet demeanour was disarming and within a few minutes we were working side-by-side repairing the walls and repainting the once derelict space. We worked well together and quickly developed a friendship. After a while he began telling me of his exploits on the Jamaica Constabulary force.
He informed me that he was an officer during the seventies and a member of a special "jump squad" tasked with "eradicating criminal elements". During our time together, he related detailed accounts of extra-judicial killings, told stories of his childhood as well as his personal tragedies and took me on a tour of pertinent places in Kingston. Elletson Road offers the act of listening to his offering.
CHARLES CAMPBELL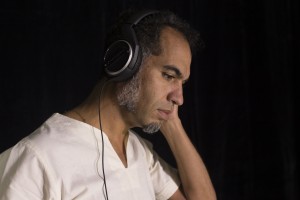 Charles Campbell is a Jamaican-born multidisciplinary artist, writer and curator. His work has been exhibited widely including at the Havana Biennial, the Brooklyn Museum, the Art Museum of the Americas, the Santo Domingo Biennial, the Cuenca Biennial, Alice Yard, the Biennale d'art Contemporain de la Martinique, Museo de Arte Contemporaneo, Puerto Rico, Rideau Hall, Ottawa and Duke University.
Campbell's recent work looks at the intersection of utopian ideals and the Caribbean's colonial past using painting, performance and installation. Alternately conjuring the force of beauty and our pull towards complicity his often-understated work destabilizes meaning and implicates artist and viewer alike in the perpetuation of our own undoing.
Campbell is the former Chief Curator of the National Gallery of Jamaica. His writing has been featured in numerous publications including Small Axe, Frieze Magazine and ARC Magazine, a Caribbean arts journal. Campbell holds a BFA from Concordia University and a MA in Fine Art from Goldsmiths College. He currently lives and works in Canada.