First the inspiration comes. I feel a tingle in my tummy. The energy starts to well up. I get excited. Words and images start to flow in my blood memory. My tongue begins to dance. I have just finished letting a woman perform reiki on me. She works on my whole body and brings healing energy to the feminine side of my body as it is not as strong as my male side she says. She has detected the heartache I carry in my body from when I moved to Victoria from my village as a child. She has helped me to free the trauma.
I feel a poem coming on. As I am laying on the table being worked on, I begin to see the Grandmothers and they are dancing in my hair. It is a gorgeous, fun, playful image and it makes me happy. Giddy with laughter. I feel light, moved by the energy we have exchanged. I get to my computer and begin to write. The Grandmothers are Dancing in My Hair is the title and first line. Yes! I am in the zone. I feel the words tingling my skin to write the imagery alive. "They are weaving and braiding a waltz of warmth and sadness of secrets and rainbows." This one is flowing smoothly. "Slow. Suave. Molassy. Electric." Aaah, I'm in the flow.
I humbly offer this poem The Grandmothers are Dancing in My Hair from my one-woman theatre show Emergence, in honour and celebration of all the Grandmothers, and the integral, pivotal role they have played in our survival and our resiliency. I pay homage to the Grandmother I knew (Nellie Cook née Hamilton) and my Grandmothers (Jenny McDougall & Jane Cook née Wanukw) that I did not get to meet.
KRYSTAL COOK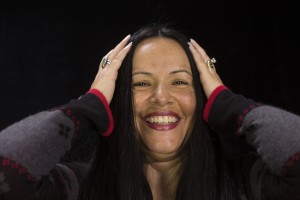 Krystal Cook is a Kwakwaka'wakw Woman from the 'Namgis First Nation of Alert Bay, B.C. She is a graduate of the En'owkin International School of Writing (UVic) and the Centre for Indigenous Theatre's Native Theatre School Program. She is a theatrical performer, poet, facilitator at Healing through the Arts, and Mother. She has performed her one woman show Emergence at Uno Fest, FemFest, Meli Fest, The Performer in a Multi-Cultural Society Symposium and the North American Indigenous Games. She currently works with Aboriginal Nations Education Division in School District 61. She is part of a Kwakwaka'wakw community group who are passionately committed to the revitalization/preservation of the Kwak'wala language. She wrote a mini-play The Lesson, for Spark Fest which she performed with her Mother and Son, addressing the urgent issue of Kwak'wala possibly being one generation away from extinction. Krystal has also served as a member of the 'Namgis Constitution Development Committee. She currently resides in Victoria, B.C. with her partner Nik & their three children Kwasun, Rayn & Tesekla.