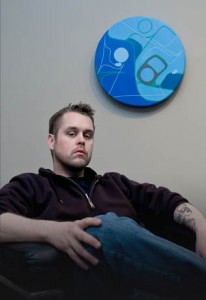 For the people who practice the Potlatch, wealth is something one accumulated to give away. This is in stark contrast to how western society views wealth. Where we collect in order to display our wealth, the people who practice the potlatch consider their act of giving as their wealth. The symbolic representation of wealth for some Northwest Coastal peoples was simply called a Copper. Frequently, Chiefs would prove their wealth by offering pieces of their coppers to others.
At a potlatch, everyone invited leaves with an offering. I recognize these 136 pennies as a wealth of hidden knowledge as per the years of the Indian Act. In this offering, I give you thanks for attending these events and ask that you respect and understand the breadth of Canada's history.
Sonny Assu
Pour les personnes qui pratiquent le Potlatch, la richesse est une accumulation de biens destinés à être donné. Cela contraste fortement avec la vision occidentale de la richesse. Là où nous accumulons pour faire étalage de notre richesse, les personnes qui pratiquent le Potlatch considèrent leur geste de donner comme leur richesse. La représentation symbolique de la richesse pour certains peuples de la Côte du Nord-Ouest était simplement nommée 'un cuivre'. Fréquemment, les Chefs démontraient leur richesse en offrant aux autres des morceaux de leur cuivre.
 Dans un Potlatch, chaque personne repart avec une offrande. Je reconnais ces 136 pièces de cuivre (des sous) comme un symbole pour chaque année de la Loi sur les Indiens. Dans cette offrande, je vous offre mes remerciements pour votre présence et vous demande de respecter et comprendre la portée de l'histoire du Canada.
 Sonny Assu
Sonny Assu (b.1975), Interdisciplinary Artist
Regarded as a 'Vanguard' for his piece in the Vancouver Art Gallery's exhibit, How Soon Is Now?, Sonny Assu continues to push the boundaries of contemporary art by challenging the perception of Indigenous art. An interdisciplinary artist, Assu merges Northwest Coast iconography with the aesthetics of popular culture to challenge the social and historical values placed upon both. An exploration of his mixed ancestry, his work appropriates or transforms items of consumer and popular culture to trace the lineage of his own personal life. Interested in ideas around Indigenous issues and rights, branding and new technologies, he works across many boundaries and disciplines and in doing so, reveals a ravishing oeuvre that speaks to many.
Assu's work has been featured in several solo and group exhibits over the past years, notably Don't Stop Me Now! and Comic Relief at the National Gallery of Canada, Beat Nation and How Soon is Now? at the Vancouver Art Gallery and Changing Hands: Art With Reservation Part 2 at the Museum of Arts and Design in New York City. Sonny is Liǥwilda'xw of the We Wai Kai First Nation (Cape Mudge). He graduated from the Emily Carr University in 2002. He currently lives and works in Montreal. He has recently been long-listed for the 10th annual Sobey Art Award (2012).
Considéré comme un artiste de l'avant-garde pour son oeuvre 'How soon is now?', présentée à la Galerie d'art de Vancouver, Sonny Assu continue de repousser les limites de l'art contemporain en remettant en question notre perception de l'art autochtone. Artiste multidisciplinaire, Assu fusionne l'iconographie autochtone de la côte nord-ouest et l'esthétisme de la culture populaire et remet en question les valeurs sociales et historiques qu'on leur attribue. À travers ses oeuvres, il explore son ascendance métissée et s'approprie et transforme des articles d'usage courant ou de culture populaire pour retracer la filière de sa vie personnelle. S'intéressant de près aux questions liées aux Premières nations ainsi qu'aux images de marque et aux nouvelles technologies, il traverse de nombreuses frontières et disciplines et il en résulte une oeuvre envoûtante qui parle un langage que beaucoup comprennent.
Le travail de Sonny Assu fut présenté dans plusieurs expositions solos et de groupes au cours des dernières années, notamment 'Don't Stop Me Now!' et 'Comic Relief' au Musée des Beaux-Arts du Canada, 'Beat Nation' et 'How soon is now?' à la Galerie d'art de Vancouver et 'Changing Hands: Art With Reservation Part 2' au Museum of Arts and Design à new York. Sonny Assu est un Laich-kwil-tach (Kwakwaka'wakw) de la première nation Weka'yi (Cap Mudge).Sonny Assu est un Laich-kwil-tach (Kwakwaka'wakw) de la première nation Weka'yi (Cap Mudge).Il fut diplômé de l'Université Emily Carr en 2002. Présentement il vit et travaille à Montréal. Il fut récemment inclus dans la liste préliminaire du Prix artistique Sobey 2012.