Terry Haines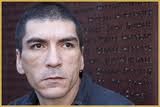 Terry Haines is a multi- disciplinary artist of Secwepemc/Welsh- Tsilhqot'n/French ancestry. He was born and raised mainly in Williams Lake, British Columbia, Canada as well as the Yukon Territory. Terry's main medium of work is in film and video production. His other interests include video and soft sculpture installations, collaborating with other artists to work on different projects as well as writing short stories and poetry. His works are contemporary ideas formed by observation and experiences about his own life and worldview. They range in interpretations of different issues including; environmental concerns, racial and sexual discrimination topics, self-esteem and humor. He has also written children's stories, fiction and narratives for some of his film and video work and lots of poetry.
Terry Haines est un artiste multidisciplinaire de descendance  Secwepemc/Welsh- Tsilhqot'n/Française. Il est né  et a grandi à Williams Lake en Colombie-Britannique, Canada, de même qu'au Yukon. Le principal medium de travail de Terry est la production  cinématographique et vidéographique. Ses autres intérêts inclus l'installation vidéo et sculpturale, la collaboration avec d'autres artistes de même que l'écriture de nouvelles et de poésie. Ses œuvres se nourrissent d'idées contemporaines formées par l'observation, ses expériences de vie et sa vision du monde. Elles présentent ses interprétations de différents enjeux : l'environnement, la discrimination raciale et sexuelle, l'estime de soi et l'humour. Il a également écrit de la littérature jeunesse, de la fiction, des dialogues pour ses films et vidéos et aussi beaucoup de poésie.
Photo: James Loewen, camera: Réal Jr. Leblanc, editing: Jonathan Durand.